Please contact us with any questions you might have or if you would like to learn more about our Foundation.
Christine Chapman, President
Christine Chapman has served as President and/or President Emeritus of the All American Air Charitable Foundation since its inception in 2011. "The past 12 years have been a lot of work, but extremely joyful, memorable and rewarding," she explains. Christine has a Master's Degree in Educational Leadership and is now the co-owner with her husband, and company founder, Steve, of All American Air Conditioning and Heating, the parent company of the AAA Charitable Foundation. With a long history of charitable work in the St. Augustine area such as past President of the Junior Service League and Kids Bridge Family Visitation Center, long-standing member of the Flagler Hospital Board, and the Florida School for the Deaf and the Blind's Board of Directors and Community Hospice & Palliative Care, Christine brings a wealth of knowledge and experience to the AAACF Board. She considers it a privilege to work alongside such amazing women who are, or have been, members of the Foundation. Over the past 12 years the AAACF with Christine as the lead, has raised nearly 2 million dollars from their generous donors to donate to over 140 worthy causes and 501©3 organizations in our surrounding area. In her spare time Christine enjoys outdoor activities, cooking, snow skiing, reading, and spending time with close friends and family.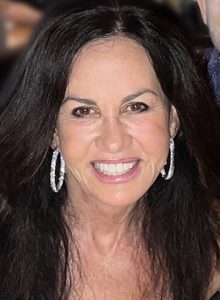 Kara Haeussner, Vice President
Kara enjoys her career in her family business of Ponce de Leon Family Dentistry. Her husband, Danny, is the dentist and she serves as Office Manager of the busy practice. Her bachelor's degree from the University of Florida and past experience in the banking field have proven invaluable. Kara has two wonderful children – Riley, a freshman at Auburn University; and Brodie, a senior at Nease High School. In her free time, she enjoys reading by the pool or at the beach and is an avid fan of all things UF Gators! Kara is proud to be the current Vice President of the AAACF after serving in several capacities in the past 11years on the Board.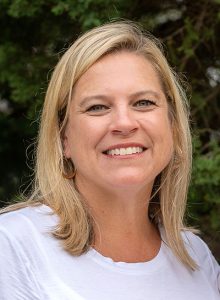 Erin Warrell, Treasurer
Erin Warrell is the General Manager of Steve Chapman's All American Air, and the Treasurer of the AAA Charitable Foundation. She has served on the AAACF Board for the past 10 years. Erin studied as an undergraduate at Florida State University, and graduated from Flagler College with a Bachelor's Degree in Communications. Erin is married to her husband, Chris, and has two teenaged children, Kaitlyn Grace (15), a sophomore at SAHS, and Keegan Thomas(13), a 7th grader. Erin's family extends to three Tibetan Spaniels: Moose, Luna, and Chilkoot; and the family has great memories of Scarlet, their Golden Retriever who crossed the Rainbow Bridge last year.
Erin enjoys fishing, reading and listening to several different genres of music. She reports that she feels blessed to live in a growing town that is still committed to small-town relationships and solutions.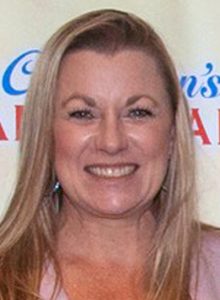 DeAnn Dockery
A seven-year veteran of the AAACF Board, DeAnn Collins Dockery serves as secretary to the busy group. A graduate of Kansas State University majoring in Marketing and Information Systems, DeAnn started her own business as a Fundraising and Management Consultant for non-profit organizations. DeAnn and husband, Roger, are busy parents to son, Ian (16) and daughter, Lilah, (11)-and the family is well protected by their German Shepherd mix, Quill. In her free time when DeAnn isn't busy with AAACF duties, she enjoys reading, wine, and traveling, not necessarily in that order. She is passionate about the nonprofit sector and loves to see people joining together to change lives and improve their community.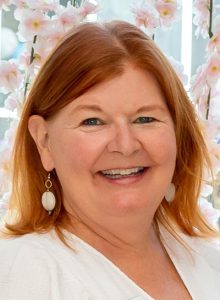 Shannon Larrabee
Shannon's Bachelor's Degree in Graphic Design and Marketing from the University of North Florida has served her well as Marketing Director at All American Air. On the AAACF Board she is invaluable as the marketing guru who designs social media graphics, website maintenance and develops print media for the Foundation. Shannon has been married to her husband Kevin and is the proud mother of Tristan, a Senior at UNF; Ronan, a Senior at SAHS, and Caroline, and 8th grader at Murray Middle School. Shannon enjoys the beach, attending her children's sporting events, and hanging out with family. Shannon joined the Board in 2021.
Linda Meehan
Founding Board member, Linda Meehan, past Vice President of the AAACF Board since it's inception, enjoys serving others in the community through the Foundation. Linda earned her Bachelor's Degree in Visual Disabilities from Florida State University and her Master's Degree in Special Education from Boston College, and enjoyed a 40+ year career in Special Education at the Florida School for the Deaf and Blind. Linda is an active grandmother to her two grandchildren Kaitlyn Grace, 15, and Keegan Thomas, 13, and runs a busy Grandmother-Taxi service for the two of them. Linda is proud of her two accomplished daughters, Erin and Maureen, and stays busy mothering their pooch-sister, Tally, the cutest pup in the planet! Much of the remainder of her free time is spent supporting her FSU Seminoles, volunteering as a member of the Limelight Theatre  Board of Directors, and serving on the St.Augustine Lighthouse Interpretation and Programs Committee.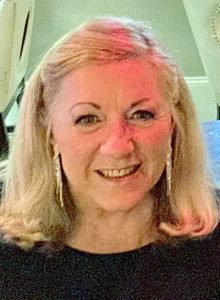 Maureen Pasky
Maureen comes to the AAACF Board with an established career as a Program Manager with Availity, a Healthcare IT company, where she is also active in their charitable and volunteer programs. Maureen, a native of St. Augustine, has a Bachelor's Degree in Communications from Flagler College. She and husband, Daniel, have enjoyed raising a sweet chocolate lab, Sedona. Maureen is active in many outdoor activities like biking, relaxing at the beach, boating, playing pickle ball, and gardening at their home in Nocatee.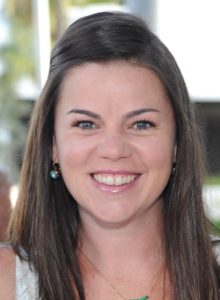 Casey Wooten Smith
Casey Wooten-Smith joined the AAACF Board in February of 2020. She has 24 years of experience working in the grocery retail business, after graduating with her AA Degree from Florida Community College in Jacksonville. Married to her husband, Brian, for over 20 years, they have two beautiful children, Tyler and Caroline. Casey loves to cook, travel, plan/host parties, and give back to her community.